Ready for a Better BOSS?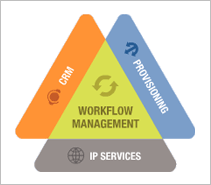 Introducing BOSS - The revolutionary pay-per-use back office platform. IntraMeta's Broadband Operations Support System (BOSS) has been designed from the ground up as the platform to unify all the pieces of your operations into a single utility that can manage it all, no matter what your size.
The BOSS Platform allows for our clients to mix-and-match the services that best fit the needs of their organizations. Customer Management, Provisioning, IP Services are all tied together with a Workflow Management module.
If you're looking for a back office solution that's flexible, easily affordable and quickly enables you to better serve your customers, bring this BOSS on board. You'll only pay for services you use, allowing you to manage your overall business more effectively. Say "hello" to BOSS and "goodbye" to swivel chair operations.
All IntraMeta products are delivered through the BOSS platform for complete system cohesiveness. Read more about the products available in the subsequent product pages, and contact us with any questions about our offerings.